Knit Notes


Oct 10, 2023
Hey, fellow yarn enthusiasts!
We have some incredibly exciting news to share with you all. The highly anticipated Southeast Michigan Shop Hop is making a grand return this year, and it's going to be bigger and better than ever! Mark your calendars and get ready for an unforgettable yarn-filled adventure.
November 2nd through November 11th, 2023
For those who may not be familiar with this yarn-tastic extravaganza, let us give you a quick rundown. The Southeast Michigan Shop Hop first kicked off in 2004, and it has become an absolute favorite among yarn lovers in the Metro-Detroit area. This remarkable event brings together 15 fabulous yarn stores, creating a haven for those of us who can't get enough of beautiful fibers, vibrant colors, and the pure joy of knitting and crocheting.
Check out the GOOGLE MAP LISTING of all our shops & plan your hop.
So, what makes the Southeast Michigan Shop Hop so special? Well, besides being a gathering of fellow yarn enthusiasts, it's also a chance to explore and connect with the incredible local yarn stores in our community. Each participating store has something unique to offer, from an extensive selection of luxurious yarns to cozy and inviting spaces that inspire creativity. It's an opportunity to discover new favorites, find that perfect shade you've been searching for, and simply revel in the shared passion for all things yarn.
Now, let's talk about the icing on the cake – the famous 'Bingo Card' game! It's a thrilling adventure where you get to earn stamps on your card for various yarn-related activities. Just imagine the excitement of visiting different stores, indulging in yarn and notions, showing off your handmade creations, and even sharing your Shop Hop journey on social media. The more stamps you collect, the closer you get to winning some incredible prizes!
Print your BINGO Card today.
Speaking of prizes, we would like to extend a massive shoutout to all the amazing vendors who contribute to making the Southeast Michigan Shop Hop a resounding success. These generous folks donate fabulous prizes that add an extra dash of excitement to the event. We are truly grateful for their support and love seeing the joy on our participants' faces when they score these fantastic rewards.
The Southeast Michigan Shop Hop is not just an event; it's a celebration of the wonderful yarn community we have right here in our own backyard. It's an opportunity to connect with fellow fiber enthusiasts, explore new stores, and revel in the magic of our craft. We can't wait to see you there!
Curious what types of prizes you could win? Here's a list with a BIG SHOUT OUT to our fabulous supplies, vendors & Reps for making this event even better!
Check out the list of prizes & find out how to WIN!
Follow us on social media and join the conversation using #SEMIShopHop to connect with fellow participants and share your excitement. Follow Instagram & Facebook pages for the latest info!
Get ready to embark on a yarn-filled adventure like no other – let's make this year's Southeast Michigan Shop Hop the best one yet!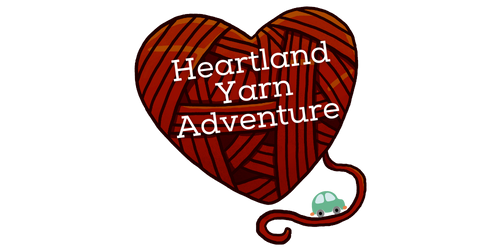 Jun 24, 2023
It's time to plan for the 2023 Heartland Yarn Adventure!
Grab a friend and start planning your 10-day road trip to dozens of beautiful yarn shops in the Heartland this summer! 
Start anywhere you like from mid-Michigan to northern Kentucky, eastern Indiana, and all the way across Ohio. Oh and there are Prizes & giveaways! Not only is the passport a wealth of information and your roadmap to all the stores in the Heartland, but you can enter to win prizes too!
68 Shops have joined the fun and can't wait for you to visit!
You'll discover new shops, new yarn, new inspiration, and new friends. 
Let's go! Check out the Heartland Yarn Adventure website for more details.
In the notes of your order - please designate Print or Digital Copy!
It's time to order your Heartland Yarn Crawl Passport. It's only $5 to join the fun!
*Print Copies will be available for in-store pick up Mid-July.